Sprite Sheet Creator
Sprite Sheet Creator
When developing the iPhone version of Guardian I manually created my sprite sheets. I used individual sprites up until the end so everything was pretty much set in stone by the time I created the the sprite sheet. Even then I ended up having to recreate the sprite sheet two or three times, and let me tell you, manually figuring out the texture coordinates isn't a particularly pleasant experience. In this case I believe I made the right choice. There were few enough sprites that I would have spent more time creating the tool than I would have saved.
The XBox version has quite a few more sprites, so I decided that spending time creating a sprite sheet tool was going to be well worth the effort. It didn't take too long to get it working well enough to use, and not too much longer than that to make it solid enough for distribution.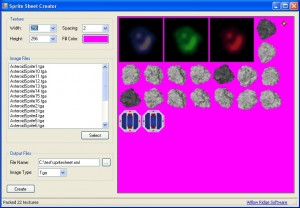 The application is released as open source under the MIT License.
Download SpriteSheetCreator.zip